Evidence leaked from scans and quotes from notable medical publications 1763-2012, outlining how intersex children and adults have been systematically submitted to medical display, gruesome medical experiments and various forms of genital mutilations on an industrial scale for more than 60 years, and proving without doubt that the crimes against intersex people constitute at least cruel, inhuman and degrading treatment or even torture.
A seperate chapter documents in words and pictures the current 3 most frequent medically not necessary, irreversible cosmetic genital surgeries on children with "atypical" sex anatomy a.k.a. Intersex Genital Mutilations (IGM).
Documentation presented during a side event at the United Nations in Geneva on occasion of the 22nd session of the Human Rights Council (UNHRC) and given a.o. to the Special Rapporteur on Torture (SRT), Mr. Juan Ernesto Méndez.
Be informed – Take part in ending IGM!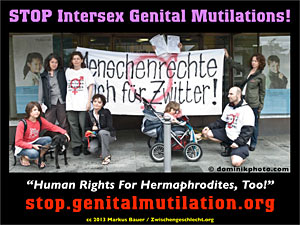 STOP IGM Primer:
What everyone should know about Intersex Genital Mutilations (IGM)!
>>> Download (PDF, 1.95 MB)